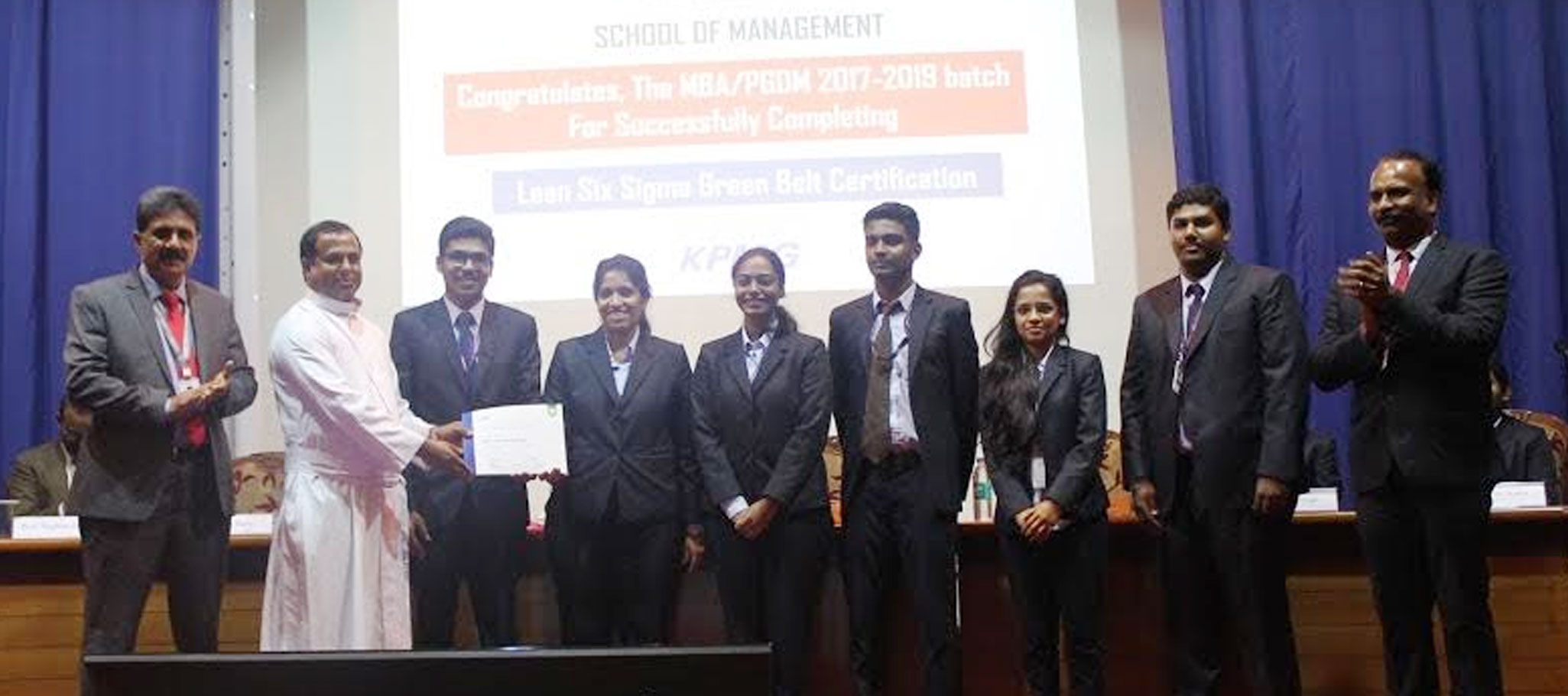 Value added Courses
Lean Six Sigma Green Belt Certification
In today's scenario of increasing globalization with innumerable players in every sphere of Services and Manufacturing, it has become a desideratum for every organization to articulate, compelling and motivating S.M.A.R.T (Specific, Measurable, Achievable, Realistic, Time - bound) objectives and goals for the seamless alignment of senior, middle and Lower management members towards steering the company in the growth trajectory. Keeping in mind the Kristu Jayanti School of Management organizes 'Lean Six Sigma Green Belt Certification Programme' to meet the changing requirements of the market.
Six Sigma Green Belt Certification programme aims at understanding the requirements of a customer that is Critical to Quality (CTQs), improving the processes and eliminating wasteful practices. This certification course is offered to the MBA students as a value added course for every batch in collaboration with KPMG ltd. More than 300 have benefited and has been awarded the Green Belt Certification over the years.
Tally ERP 9.0 Certification
Introduction of GST paves way for multi-task handling of financial transactions. Awareness and tax planning of GST is essential for the present business which is focusing on high frequency financial transaction. In this regard, Kristu Jayanti School of Management, Bangalore offers a value added course on Accounting ERP application Tally 9.0 for the MBA students. The training is given by the Tally- ERP solution provider. Students are trained in preparation of GST bills, planning the GST requirements, reconciling the supplier transactions, identifying right input tax, transaction error handling system, tracking the supplier's bills and integrating the GST with the financial exchange modules. At the end of the rigors training, students are able to take decision on the financial supply chain. The training on integrated accounting package helps the students in preparing the accounting statements in such a manner to track the suppliers and plan for stochastic inventory planning