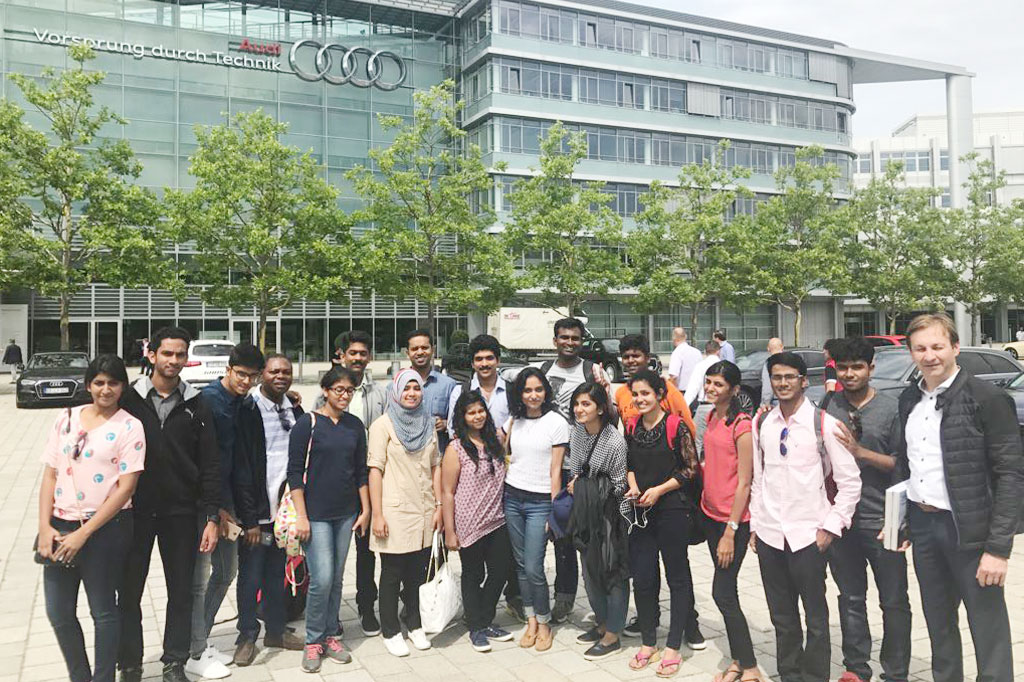 International Internship Programme
Kristu Jayanti School of Management has organized an International Internship Programme for the first year MBA students (Batch 16-18) to Germany, France & Spain from 01/07/2017 to 16/07/2017. Students of MBA, 18 in numbers led by Rev Fr. Lijo P Thomas, started from Bangalore on July 01, 2017. The programme consisted of 32 teaching units at the Hochschule Neu-Ulm University (HNU) of Applied Sciences and at the Ulm Chamber of Commerce and industry including a visit to Audi AG in Ingolstadt.
The University programme commenced on 3rd July, 2017 at HNU with an Introduction by the President & Dean, International Office of the University. Ms. Nertinger delivered her speech on the 'Cultural Specifics of Germany'. Prof. Dr. Steurer delivered a lecture of International Finance Management. Students were also taken for a campus tour and also for a city tour in Germany. The course on International Finance Management continued on 4th July, 2017. On 5th July, 2017 Dr. Kaulitz conducted a session on 'Commerce & Industry in Germany'. On 6th July, 2017, Prof. Dr. Achim Dehnert conducted a session on 'International Business Management'.
On 7th July 2017, students were taken to the Audi AG in Ingolstadt. Students spent their time till 12th July in Germany visiting many places of Business & Cultural importance in the cities of Berlin, Cologne and Munich. Between 12th July to 16th July 2017, students were taken to France (Paris) & Spain (Madrid & Barcelona) and they returned back to India on 17th July 2017 morning.
Students had a great Learning Experience, International Exposure & fun visiting many historic places and business places in Germany, France & Spain.
'It was indeed a life time experience to learn the culture, business and financial management with international perspectives' shares Kevin Sunny & Joice Jose